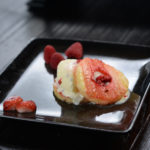 Prep Time: 5 minutes
Cook Time: 5 minutes
Print
Grilled Pineapple and Ice cream Sandwiches
Everyone has a sweet-tooth. This recipe is perfect for a family dessert. Try it after completing your dinner course on the Party Grill. Indulge in the sweet and savory flavors of pineapple with your favorite ice cream.
Ingredients
Instructions
Slice pineapple into circular pieces
Place face down on the grill until you achieve grill marks (about 2 minutes on each side)
Choose your ice cream flavor.
Place one piece of pineapple on the plate, add a scoop of ice cream, and top it all off with the second piece of pineapple.
Add Raspberries or blueberries to enhance the dish.
Add to Favourites