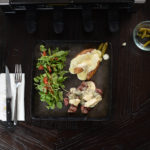 Prep Time: 10 minutes
Cook Time: 25 minutes
Print
Steak, Potatoes, and Cheese
Nothing says date night like a nice cut of steak and a candle-lit table. This dish is perfect for small groups of people. Steak pairs well with many cheeses so there is no limit to which ones you choose. Make this dish complete with a fresh salad or grilled vegetables.
Ingredients
Instructions
Cut steak into bite-size pieces. We recommend beef fillet but choose your favorite cut! Add salt and pepper to taste and place on PartyGrill.
Here's where you can have some fun! Raclette is the perfect melting cheese for this dish however, Blue cheese and Brie can also pair very well with steak. Better yet, try a variety of cheeses in each melting tray and create a different bite each time!
Grill Asparagus stalks on top of your grill until they have a nice char. Squeeze some fresh lemon juice on top for that extra zest.
Boil small potatoes on the side for your guests to add. If you buy pre-cooked potatoes try opening them and placing them face down on the grill for a warm char.
Add some fresh arugula salad to balance out the heartiness of the steak and potatoes.
Add to Favourites