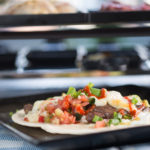 Prep Time: 20 minutes
Cook Time: 10 minutes
Print
Taco Bar
Who doesn't love a taco bar night? This recipe is great for friend gatherings or family dinner. You can make the same recipe using tortilla chips instead and creating a perfect dish for the tailgate.
Ingredients
Instructions
Dice your chicken, beef, shrimp or veggies into bite size pieces.
Prepare your Pico de Gallo by dicing tomatoes, jalapeños, and red peppers into fine pieces. Add fresh-squeezed lim and salt and pepper to taste. Mix together and set aside.
Slice a ripe avocado into halves. With a fork mash down the avocado until it achieves a spreadable consistency. Add lime juice to make it extra moist and easier to mash.
Grill your meat or vegetables to your desired temperature using the PartyGrill.
Choose your favorite cheese to melt. We recommend pepper-jack or sharp cheddar and place it into one of the 8 melting trays
Lay out a medium-sized tortilla nacho chips on a plate.
Add your cooked meat or veggies on top of tortilla and add your mashed avocados and Pico de Gallo.
Sprinkles chopped cilantro atop and perhaps add Sriracha for those people who like to kick their food up a notch!
Lastly, pour your freshly melted cheese on top of your taco creation and enjoy the vibrant and tasty simplicity of this family-friendly meal.
Add to Favourites