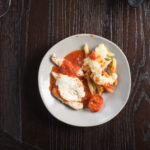 Prep Time: 10 minutes
Cook Time: 10 minutes
Print
Chicken Parmesan
You don't have to be Italian to love this classic dish. No more setting your chicken parm in the oven and waiting. This recipe is a quick and easy way to get the same burst of flavors and keep your guests happy. It is perfect for Sunday family dinner or entertaining your Italian in-laws!
Ingredients
Instructions
Prepare small fillets of chicken or eggplant

,

for your vegetarian company. Add salt, pepper, oregano and basil to taste and throw it on the PartyGrill.
In one of the melting trays add freshly diced tomatoes or marinara sauce. Pesto can be a good alternative for those who want to swap out the traditional marinara.
In a neighboring melting tray add fresh mozzarella- the perfect cheese to melt on this Italian classic.
Once your chicken or eggplant is cooked through, transfer it to a plate and pour the marinara on the top

,

followed by the perfectly melted mozzarella cheese.
Add a side of spaghetti or salad to bring the dish full-circle.
Add to Favourites